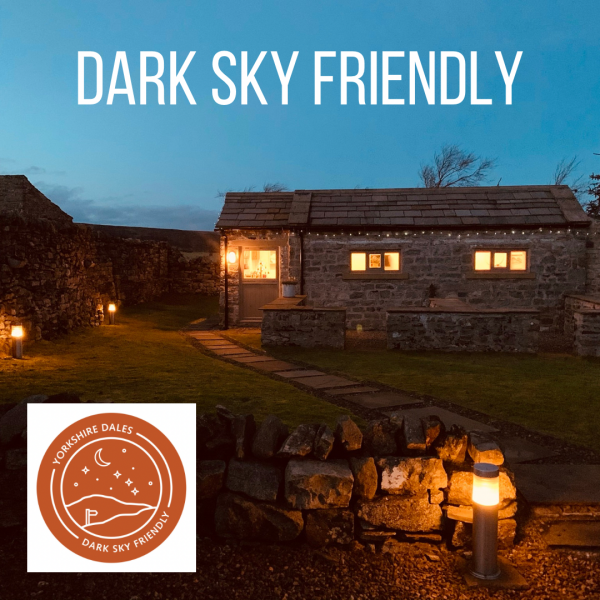 Following the amazing news, that in December 2020 the Yorkshire Dales National Park and The Yorkshire Moors have been designated as International Dark Sky Reserves, we decided we really need to make the most of this great achievement.
Previous guests have long been commenting on the stunning clear skies in Hurst so we thought it was high time we went the extra mile to help further guests make the most of these mind blowing skies.
The Little Barn is now proud to have been officially recognised as Dark Sky Friendly.
The Yorkshire Dales National Park and The Yorkshire Moors have some of the darkest skies in the country, with a combined area of over 3500km2 in the North of England
On a clear night, it is possible to see the Milky Way, Planets, Meteors as well as over 2,000 stars !
Can you think of anything more romantic than gazing up at the night sky, either from the comfort of the garden at The Little Barn, without having to even get in the car, alternatively you could pack the flask full of hot chocolate and walk up onto the moors opposite for an even more romantic experience, here you will find yourself on the edge of high Swaledale, one of the premier locations to view the skies.
View the Stargazing in the Yorkshire Dales National Park guide (pdf).
'Exceptional Views, the sky at night is truly amazing, I've never seen so many stars'
'When we arrived everything was snow covered and the stars were unbelievable, never seen a sky like it '
'The marshmallows toasted on the fire were perfect when sitting under the stars'
'We managed to catch a glimpse of Jupiter & Saturn from the the top of the hill'
'I love looking at the night sky, managed to see Jupiter, Saturn & Mars and it was so clear we could see the Milky Way, we saw the ISS, two shooting stars and a few satellites'
'We had gorgeous weather and so had a wonderful BBQ, the cows in the field behind came to say hello and we wrapped ourselves in blankets as the sun set and the stars came out'